The Mixing Assembly consists of series of paddle type blades of appropriate shape to move the material back towards the center of the container. The paddle type blades are provided on the central shaft which runs through a hollow shaft on which other sets of blades are welded. Both the sets of blades intermeshed with each other and rotates in clockwise and anti-clockwise direction respectively and one sets also scraps the container wall for thorough and uniform mixing of the material.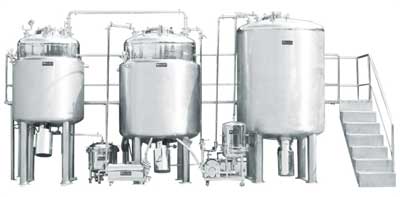 Backed with the rich experience, we are engaged in manufacturing and supplying Toothpaste Processing Plant. Our plants are provided in diverse models and capacities along with various specifications to meet the specific demands of the customers.
Toothpaste manufacturing plant contains of a key manufacturing vessel also known as Contra Mixer. Contra Mixer works on the principle of Contra rotation of Blades for concurrent beating and scraping operation. The mixer is highly versatile and widely used for manufacturing Tooth Paste, Creams, Cosmetics and other viscous products.
Sugar melting vessel
Online sugar syrup pre-filter ( Basket filter )
Manufacturing vessel
Storage vessel
Transfer pumps
Piping for complete plant
Working platform
Control panel
Inline homogenizer(optional)
Salient features

The plant is made using quality raw material at most competitive price
Manufactured as per international standards
Latest high-tech design of machines for best performance
Best quality mechanical & electronics parts are used for long working life of the equipment
Sturdy design for continuous 24 x 7 running machines
Modest in design and hence easy to operate and maintain
Produced by highly skilled and professional production and supporting staff
TStringent quality control to ensure 100 % customer satisfaction
Pipes, pipe fittings are of SS 316, seamless, internally electro-polished with silicon gaskets.
Optionally equipped with CIP & SIP facility and load cell for online weighting.
Automatic operations are ensured with PLC based control panel.
Inline Homogenizer can also be optionally provided.
Zero hold up filter press gives crystal clear filtration.
Available in various batch capacities from 500 liters to 5000 liters.
Cream vacuum emulsifier machines for cosmetic food pharmaceutical making homogenizing mixing equipment