Pug Mill Mixer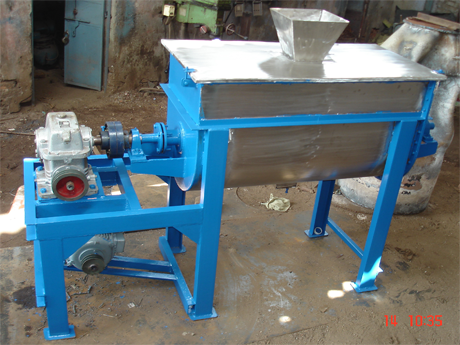 Pug mill or Pug Mixer Uses for Various type of Mixing and Blending of Powder, Chemical, Paint, Putty and many other chemical, liquid, Solids, Solid liquid.
Suitable for Paint, Pigment, Dyestuff, Coating Printing Ink, for mixing, Dispersing, grinding
to blend and mixing of Dry , Wet material,
with jacket or without jacket Available
Blending Capacity Ranging from 50 litrer to 1000 liters
It is available in different sizes and capacity : - Ranging from 50 liters capacity to 5000 liters.
The Ribbon Blender/Pug Mixer offered by us is manufactured in compliance with industry guidelines, and consists of a center shaft of appropriate diameter. The center shaft of this equipment is fitted with specially designed agitator blades to provide contraflow action. Contraflow action ensures constant circulation and proper mixing or blending of ingredients. Ends of the equipment are installed with stuffing boxes on the shaft that prevent leaking of blended ingredients and stop them from entering into bearings. Furthermore, the shaft is supported by heavy duty pedestals, thereby, ensuring efficient functioning of our ribbon blender/pug mixer. We have fabricated these process equipment using high quality mild steel and stainless steel. Capacity of these blenders/mixers ranges from 500 to 6000 kg.

Pug Mill, Pug Mill manufacturers, Pug Mill suppliers, Pug Mill manufacturer, Pug Mill exporters, Pug Mill manufacturing companies and Pug Mill,Pug Mill Mixer producers

<