Twin Shaft Disperser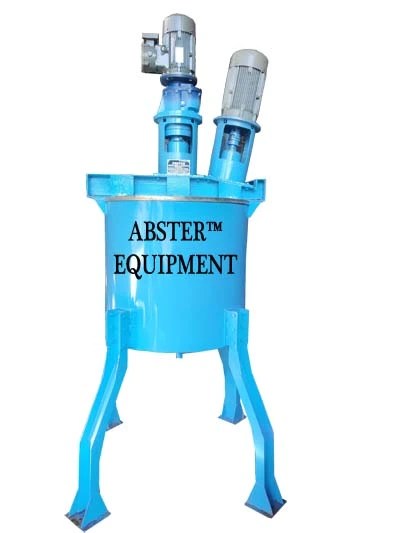 We are one of the trusted providers of quality-approved Twin Shaft Disperser that are considered as most versatile equipment for paint production. As the name suggests, the disperser range has been specifically designed to disperse, mix and homogenize products.
The process of dispersion is carried out by the centrally located shaft, and the low speed shaft is responsible for the mixing mechanism. Reckoned for trouble-free operations, the equipment made available in this range is extensively used for manufacturing plastic emulsions and eco-friendly water based paints. These top notch quality twin shaft disperser machines are also employed in various industries for mixing highly viscous materials.
Manufactured using graded steel, our dual shaft dispersers are known in the market for ensuring long service life. These machines comprise two agitator shafts, and are available in different sizes and capacities.
Twin shaft Dispersers (TSD) mixer is a combination of two mixers, one being an anchor / scraper operating at lower speed and the other being saw tooth / cowls disc impeller operating at high speeds to achieve good dispersion of solids. Dispersion is a process of dispersing solid particles in a liquid. Homogeneous dispersion of solid particles in a liquid is typically required for various applications in process industry.
For example, in paint industry, various colour pigments are added in liquid solvent in order to achieve homogenous solution in form of paint as final product.Such pigments, which are solid particles, are not easily soluble in the liquid solvent , and therefore, require to be homogeneously dispersed in the liquid solvent. Further, such pigments or solid particles are required to be broken down into smaller pieces to achieve homogeneous dispersion. Typically, such dispersion is achieved by exerting a shearing force onto the solid particles present in the liquid.
However, conventional mixers used for dispersing solid particles in the liquid does not produce a homogeneous mixture of the dispersed solid particles in liquid. The presence of undispersed solid particles, like pigments, in the liquid causes non homogeneous mixing, thereby affecting the very cause for which the mixture is to be used. Furthermore, if the mixing components are viscous, they have a tendency to stick to walls of a vessel in which they are mixed. Such fluid adhered to the walls require to be dislodged from the walls by scraping action, and pushed towards the center of the vessel. The conventional mixers are unable to perform such action.
Twin shaft dispersers are widely used mixing systems involving high viscous fluids, liquid-solid dispersion, blending etc.
Coaxial shafts design with a high speed saw tooth impeller for the required shear forces and a low speed anchor/scrapper to generate the required axial flow with required scrapping action to push the fluid towards the central dispersion zone.
Widely used in paint applications for dispersion of pigments.
Provides homogeneous mixing and scrapping/heat transfer.
Pneumatic/hydraulic lifting arrangement can be provided.
Compact and robust design, offering dual processes in a single mixing system.
Can be offered with mixing vessel.
Technical Superiority:
Coaxial shaft design with high rigidity. Designs with parallel shafts available.
Low shaft run outs.
Saw tooth / cowl disc used for high dispersion rate.
Superior and Uniform dispersion and blending.
Temperature Uniformity due to Effective heat transfer.
High energy efficiency, No Cavitations, Higher Reliability.
Wide range of MOC like SS304, SS304L, SS316, SS316L, 904L, Hastalloys, Titanium, Special alloys, MS etc to suit customer requirement.
Key Design Features:
Rugged heavy duty design.
Gearbox drive for low speed anchor / scraper, and direct or belt driven high speed disperser (saw tooth / cowls disc).
Mechanical arrangement to ease maintenance activity.
Heavy duty bearings designs.
Installation options with high speed unit lifting arrangement (pneumatic / hydraulic).
Genuine material specifications with material test certificates.

Twin Shaft Disperser Specification
| | | | |
| --- | --- | --- | --- |
| S.No. | Batch (KG) | Horse Power (High Speed) | Slow Speed |
| 1 | 500 Kg | 10 HP | 5 HP |
| 2 | 1200 Kg | 20 HP | 7.5 HP |
| 3 | 2500 Kg | 50 HP | 20 HP |
| 4 | 4500 Kg | 75 HP | 30 HP |
Sand Mills | Ribbon Blender / Pug Mixer | Sigma Kneader | Twin Shaft Disperser | High Speed Disperser | Ball Mill | Process Reactors | Triple Roll Mill
Twin Shaft Disperser | Twin Shaft Disperser Manufacturer | Twin Shaft Disperser India | Twin Shaft Disperser Ahmedabad | Twin Shaft Disperser in India