Reaction Vessel Manuufacturer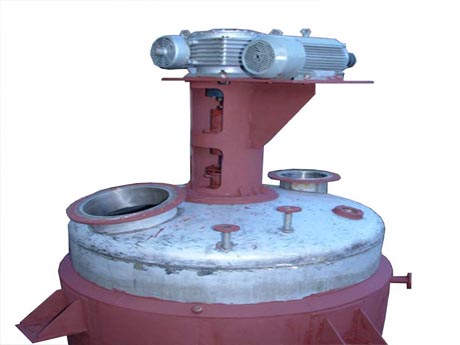 Being a customer centric organization, we provide highly efficient Double Jacket Reactor featuring optimum functionality to our clients. Our jacketed reactors are available in several designs including electrical, hot oil and steam heated. We are strongly committed to quality and follow effective practices for quality checks and quality assessments at multiple stages of production. This helps us deliver the highest quality and defect free chemical reactors.
Being a leading Process Reactor manufacturer, we strive to exceed the expectations of our customers and leave no stone unturned to deliver world class products and reliable services. Our Resin kettle have received immense appreciation from our global clients for not only sturdy construction but easy operations and leakage proof features. They allow accurate control of the temperature of its content and are highly suitable for heat transfer applications such as heating and cooling of water and for removing the elevated heat of chemical reactions.
We have a team of experienced professionals who are experts in design, fabrication and installation of high quality and durable Reaction Vessel that will last for a longer time. They follow industry best practices, and strive to provide reliable designs to our clients for proper heat transfer when fluid flows around the jacket.
We offer high quality Reaction Vessel in different capacities ranging from 50 liters to 15,000 liters. Fabricated from superior grade of stainless steel, these vessels can be provided with different types of agitators such as anchor type, propeller type, paddle type, pitched blade turbine type of high-speed homogenizer. The unique design of our reaction vessels allow the conditions to be controlled for fastest possible chemical reaction.
Chemical reactors are vessels designed to contain chemical reactions. One example is a pressure reactor. The design of a chemical reactor deals with multiple aspects of chemical engineering. Chemical engineers design reactors to maximize net present value for the given reaction. Designers ensure that the reaction proceeds with the highest efficiency towards the desired output product, producing the highest yield of product while requiring the least amount of money to purchase and operate. Normal operating expenses include energy input, energy removal, raw material costs, labor, etc. Energy changes can come in the form of heating or cooling, pumping to increase pressure, frictional pressure loss (such as pressure drop across a 90° elbow or an orifice plate), agitation, etc.

REACTION VESSEL SPECIFICATION
| | |
| --- | --- |
| Capacity | 50 L TO 20,000 LITER |
| Chemical Reactor | Chemical Reactor , With Agitator , Jacketed & Limpet . |
| Reactor Type | Both Dish End , Motor and Gear box , Inside Agitator for Mixing Material , Bottom discharge connection Vertical outer heating limpet and jacketed |
| Usage/Application | Reaction , Mixing or Blending Row Material |
| Mixing Material | Chemicals / Oils / Lubricant / Liquid Syrup / Sugar Syrup / Wax Melting /Engine Oil |
| Material of Construction | Stainless Steel ,Mild Storage |
| Orientation | Vertical Orientation |
| Shape | Round |
| Tank Diameter | As Per Your Requirement |
| Electric Heater | Single Phase or Three Phase |
| Temperature Controller | Automatic or PLC Operated , Ph Indicator |
| Mixing Speed (RPM) | Variable , Speed Up And Down As Per Requirement |
| Finishing Type | Matt Type ,Mirror Finishing |
| Heating and Cooling System | YES |
| Temperatures Range | 30 TO 250 Degree |
| Vacuum | Yes |
| Cooling Coil | Internal Coil ,Outer Limpet , Outer Jacketed |
| Outer | Heating coil or jacket |
| Resting | Leg or Resting Lug |
Application Industry
Pharmaceutical industry
Chemical industry
Food and beverages industry
Petro-chemical industry
Resins industry
Polymers industry
Coatings industry
Adhesives industry
Agricultural industry
General chemicals industry
Plastics industry
Rubber industry
Herbal Extractor
Reaction Vessel, Jacketed Reaction Vessel, Limpet Coil Reaction Vessel, Stainless Steel Reaction Vessel manufacturer and supplier India
Products
Multi-functional Jacketed Agitated Stainless Steel Reaction Kettle Design Stainless Steel Reaction Kettle DesignHigh Temperature and Pressure Reactor
Tags