High Speed Disperser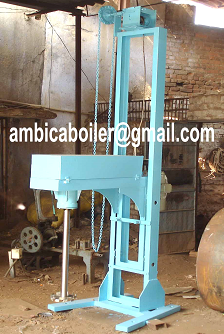 High Speed Disperser is Suitable for Paint, Pigment, Dyestuff, Coating Printing Ink, for mixing, Dispersing, grinding
Best use of Disperser is to dissolve and disperseion of Liquid and Liquid with solids.
Disperser is availabe in Manual or Hydraulic Up and Down Arrangment.
High Speed Dispersion machine has Starting Capacity Ranging from 50 litrer to 1000 liters
Suitable for Putty, Primers, Distempers, Plastic paint , Exterior emulsions & premium wall finishes for Paint, Pigment, Dyestuff, Coating Printing Ink, for mixing, Dispersing, grinding.

High Speed Disperser, High Speed Disperser mixer, Dissolver, Paint High Speed Disperser, dispersion machine