High Speed Stirrer, Mixer and Agitator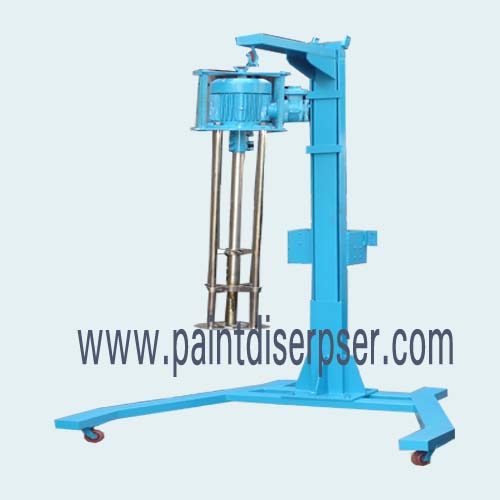 High Speed Disperser is Suitable for Paint, Pigment, Dyestuff, Coating Printing Ink, for mixing, Dispersing, grinding
Best use of Disperser is to dissolve and disperseion of Liquid and Liquid with solids.
Disperser is availabe in Manual or Hydraulic Up and Down Arrangment.
High Speed Dispersion machine has Starting Capacity Ranging from 50 litrer to 1000 liters
Suitable for Putty, Primers, Distempers, Plastic paint , Exterior emulsions & premium wall finishes for Paint, Pigment, Dyestuff, Coating Printing Ink, for mixing, Dispersing, grinding.

This type of machine consist of a motor of reputed make. All contact parts will comprise of S.S 304 material. It will have a protecting cage with two 20 mm bar held apart by closing flat ring clamping on to the bar. The shaft will be coupled directly to the motor shaft. An extra bearing on the coupling sleeve will be provided to reduce the load on the motor bearing. lt will consist of an impeller of special design.
High Speed Disperser, High Speed Disperser mixer, Dissolver, Paint High Speed Disperser, dispersion machine