30HP Disperser Expolsion Proof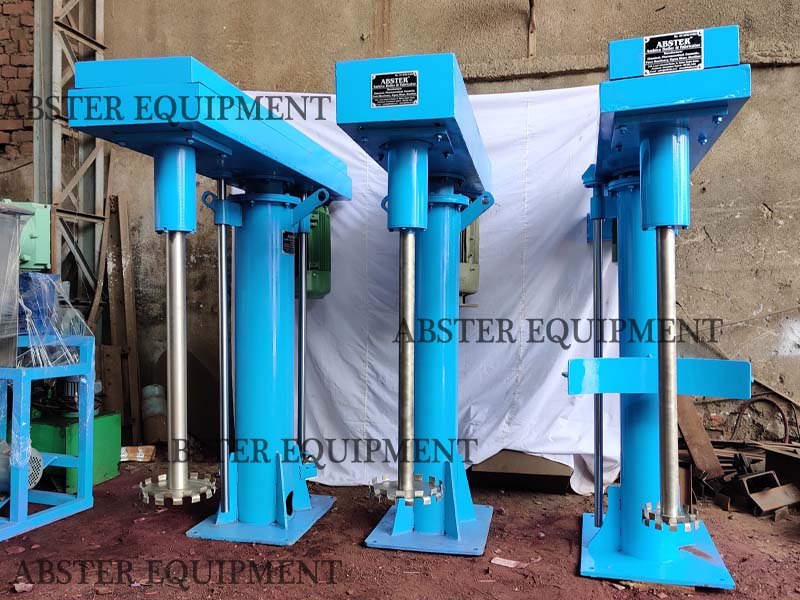 Product Advantages
Higher efficiency, better quality
The 30HP Disperser Expolsion Proof has Max. rotation speed can be up to 2930rpm (For bigger power, 1450rpm), linear velocity is over 20m/s, it can rapidly disperse the powder in the liquid evenly; Due to its high shear forces, the material will be uniformly dispersed and formed a good suspension effect. Due to the strong shearing force , the materials are dispersed evenly and form good suspension effect.
Safe and convenient operation
Adopt hydraulic cylinder as lifting actuator. Control the hydraulic up, stop, down through the oil pump, easy operation and stable. The dispersing disc is fixed to the main shaft with Hexagon socket-head cap screws, which can be disassembled and exchanged quickly, easy to clean. Different dispersing discs can be exchanged accordingly to production process to obtain optimized dispersing result. Different clamping types(Belt Clamping, Manual Rotation Clamping, Pneumatic Clamping) are optional to fix the tanks properly to prevent from accident due to the tank displacement during operation.
Various installation ways
With compact structure, the machine can be floor type and platform type. Tank working with the mixer can be removable type or fixed type.
Customized options
Different options are available such as explosion-proof type, closed type, multi-tanks type, with lifting cover type, co-axial type/dual-shaft type, mounted on kettle type, etc.. Material can be customized to be SS304 \SS321 \SS316L .

30HP Disperser Expolsion Proof with Vacuum Pump
Hydraulic High Speed Disperser is Suitable for Paint, Pigment, Dyestuff, Coating Printing Ink, for mixing, Dispersing, grinding
Best use of Disperser is to dissolve and disperseion of Liquid and Liquid with solids.
Disperser is availabe in Manual or Hydraulic Up and Down Arrangment.
High Speed Dispersion machine has Starting Capacity Ranging from 50 litrer to 1000 liters
Suitable for Putty, Primers, Distempers, Plastic paint, Exterior emulsions & premium wall finishes for Paint, Pigment, Dyestuff, Coating Printing Ink, for mixing, Dispersing, grinding.

High Speed Disperser, High Speed Disperser mixer, Dissolver, Paint High Speed Disperser, dispersion machine
High-speed Disperser is to dissolve, disperse and mix materials with different viscosity. Through the very high peripheral tip speed of the toothed disc, the strong shearing, crashing and friction forces generated between the materials and toothed disc disperse, dissolve and mix the materials efficiently.
High Speed Disperseer Working Principle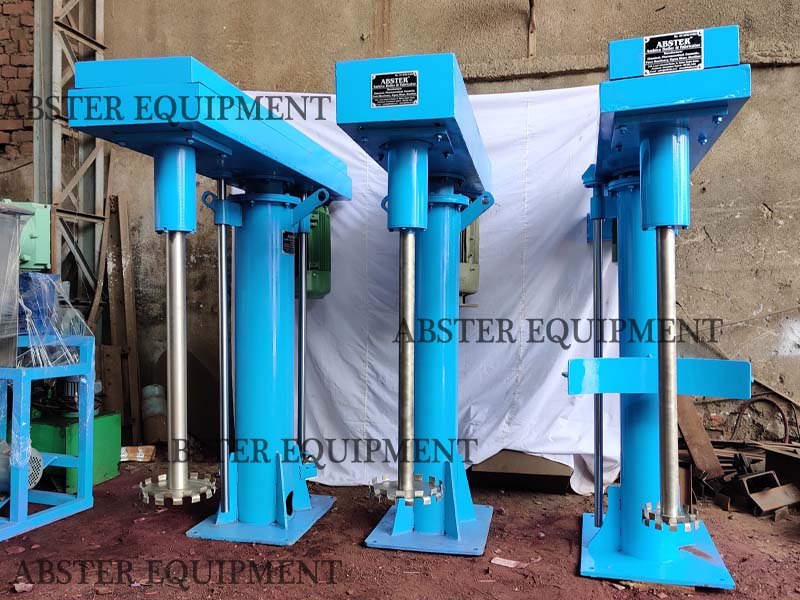 Through the high-speed rotation dispersing disc, the materials will become in annular form flow, resulting in strong vortex flow, which descend down to the bottom of the vortex in spiral state. During the process, materials are dispersed, dissolved, mixed and emulsified efficiently due to the strong shearing crash and friction among the particles.
The hydraulic pump drives the hydraulic cylinder ascend and descend, which drives the whole transmission and working set up and down.

Technical Data Sheet:
Model

Motor power

(kw)

Speed

(rpm)

Disc Dia

(mm)

Capacity

(L)

Hydraulic power
(kw)

Lifting

(mm)

Weight

(kg)

HSD-1.5

1.5

0-1450rpm

120

≤60

0.55

600

400

HSD-4

4

0-1450rpm

200

≤200

0.55

900

600

HSD-7.5

7.5

0-1450rpm

230

≤400

0.55

900

800

HSD-11

11

0-1450rpm

250

≤500

0.55

900

1000

HSD-15

15

0-1450rpm

280

≤700

0.55

900

1100

HSD-18.5

18.5

0-1450rpm

300

≤800

1.1

1100

1300

HSD-22

22

0-1450rpm

350

≤1000

1.1

1100

1400

HSD-30

30

0-1450rpm

400

≤1500

1.1

1100

1500

HSD-37

37

0-1450rpm

400

≤2000

1.1

1600

1600

HSD-45

45

0-1450rpm

450

≤2500

1.5

1600

1900

HSD-55

55

0-1450rpm

500

≤3000

1.5

1600

2100

HSD-75

75

0-1450rpm

550

≤4000

2.2

1800

2300

HSD-90

90

0-950rpm

600

≤6000

2.2

1800

2600

HSD-110

110

0-950rpm

700

≤8000

3

2100

3100

HSD-132

132

0-950rpm

800

≤10000

3

2300

3600
Note: Above data may be change without prior notice
Ribbon Blender / Pug Mixer | Sigma Kneader | Twin Shaft Disperser
High Speed Disperser | Ball Mill | Process Reactors | Disperser manufacturer Homoginizer - emulsifier | Twin Shaft Disperser manufacturering Company| Butterfly mixer for paint and Ink manufacturering Company