Color Masterbatch Double Z Arm Kneader Mixer with Extruder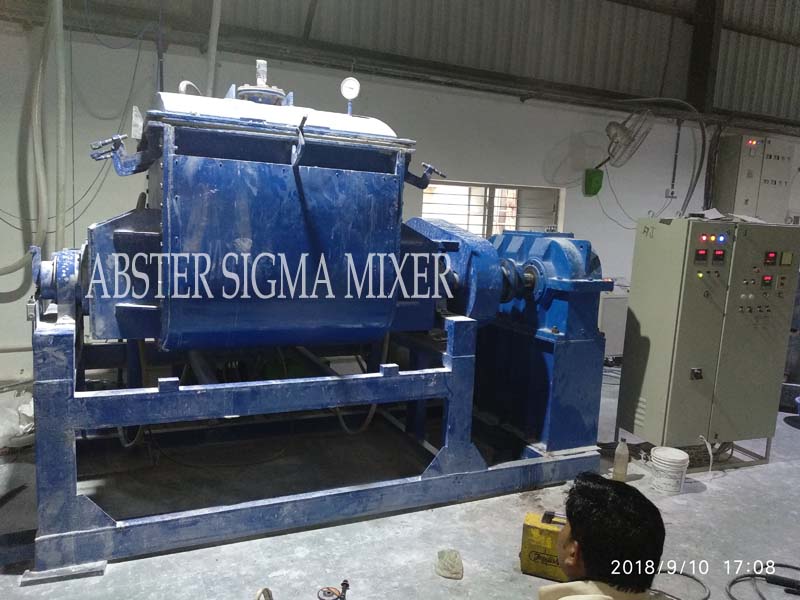 Product Details:
Application and introduction
Double arm kneader mixer is with two Sigma (Z)blade , it is mainly used on high viscous materials Kneader Is a pair of mutually mating and rotating blades (usually Z-shaped) produced by the strong shear effect of semi-dry state or rubbery viscous plastic material can make the material quickly react to obtain a uniform mixing and stirring. The form of temperature adjustment using electric heating, steam, oil heating, water cooling and other methods, the use of hydraulic cylinder and open cover. Discharge methods are hydraulic, inverted cylinder dump, ball valve discharge, screw extrusion and so on. Cylinder and pulp and material contact parts are made of stainless steel to ensure product quality.
The Sigma kneader machine Widely used in high viscosity sealant, silicone rubber, neutral acid glass glue, chewing gum, bubble gum, pulp, cellulose, food ,also used in batteries, inks, pigments, dyes, pharmaceuticals, resins, plastics, rubber, cosmetics and other industries.
How It work
Sigma Kneader extruder is consist of Mixing chamber ,driving system. Vacuum system and also two Sigma (Z )blades , During the mixing cycle the blades rotate toward each other while the mixing screw rotates in a reverse direction, constantly feeding new materials into the mixing blades. After the mixing/kneading cycle is complete, the screw is reversed and it transports the mixed materials from the mix zone out through a discharge die and on to further processing or packaging.
Technical data
Discharge have optioned like Hydraulic tilt and screw extruder ,bottom valve discharge for choice ,and also the vacuum, heating , cooling are all available.
The cover of the mixing chamber can be optioned ,some production not request ,but some are need ,the open of cover we adopt hydraulic lift .
Machine body made by carbon steel and the parts which touched the materials are made by stainless steel. The blade made by stainless steel covered with Hard steel for protecting blade under hard materials.
Technical data
| | | | | | | |
| --- | --- | --- | --- | --- | --- | --- |
| Model | Capacity (L) | Power (kw) | Rotating speed rpm | Vacuum degree( Mpa) | Weight | Jacket |
| ABFSM-5 | 5 | 0.75 | 33/23 | -0.094 | 300 | Customized |
| ABFSM-10 | 10 | 1.1 | 33/23 | -0.094 | 400 | Customized |
| ABFSM-50 | 50 | 3 | 45/23 | -0.094 | 600 | Customized |
| ABFSM-100 | 100 | 7.5 | 35/22 | -0.094 | 1200 | Customized |
| ABFSM-300 | 300 | 11-30 | 37/21 | -0.094 | 1600 | Customized |
| ABFSM-500 | 500 | 15-37 | 35/25 | -0.094 | 3000 | Customized |
| ABFSM-1000 | 1000 | 22-90 | 35/25 | -0.094 | 4500 | Customized |
| ABFSM-1500 | 1500 | 22-90 | 30-16 | -0.094 | 5800 | Customized |
| ABFSM-2000 | 2000 | 30-110 | 30/16 | -0.094 | 6000 | Customized |