Geared Drive Liquid Mixer
Our iquid mixer and can be used for stirring, agitating, emulsifying or homogenizing the liquid. Direct drive, geared drive and high speed mixers are the basic three categories available for liquid mixing. The selection is based on the fluid details like viscosity and specific gravity, tank details like shape, size and volume and the process requirement like blending, dispersion, mixing, homogenize.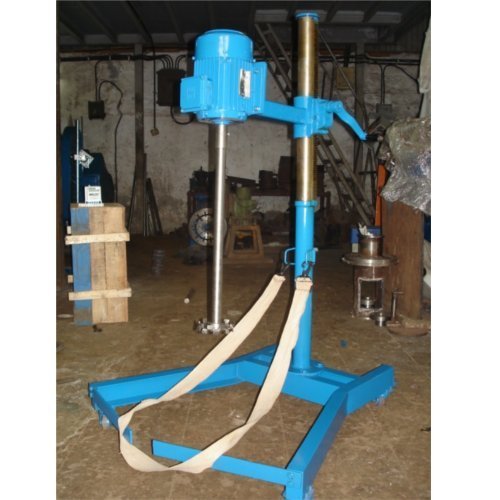 Different mounting arrangements like flange mount, bracket mount for angular entry are available. The mixers can be mounted on specially designed heavy duty fabricated lifting lowering stand for ease of operation.

We offer geared drive liquid Mixers that are used for viscous and semi viscous liquids like paint and enamel mixing, mild agitation, pulp and other food mixing etc. These fluid mixers are available in four standard speeds, 375 rpm, 290 rpm, 200 rpm, 125 rpm. The power rating ranges from 0.37 kw to 7.5 kw. Lifting lowering stand suitable for different tank sizes is also an optional accessory to geared drive agitators. Different mixing impellers like propellers, pitched turbines and other axial or radial flow turbines can be fitted for different properties of fluids and applications. geared drive mixers are available in different mounting arrangements like clamp, flange, stool or other supports. Different models are available depending on application, volume, viscosity, and specific gravity. Other than standard models these mixers can be designed to suit specific requirement at optimum efficiency and minimum of power rating.

Leading Manufacturer of Geared Drive Liquid Mixer, Geared Drive Industrial Fluid Mixer, Direct Drive Mixers and Planetary Mixers from Mumbai.