BINDER PREPARATION
VESSEL
Coating Solution Binder Preparation Vessel
Binder Preparation Vessel (Paste Preparation Kettle) has been designed uniquely for optimal mixing efficiency so as to ensure a homogeneous mix. The special stirrer in the vessel has been designed to create vortex inside the solvent which enhances the desired solubility of pharmaceutical binder solute into the various solvents. Due to its unique design the binder solution can be directly transferred into the processing equipment such as high shear mixer granulator, planetary mixers or fluid bed processor.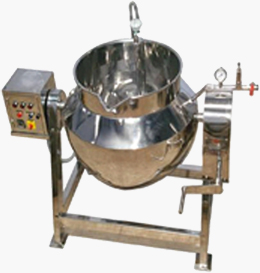 FEATURES
Designed uniquely for optimal mixing efficiency
Special stirrer included for homogenous mix
Controlled temperature exposure with special jacketed bowl
Suitable for preparing Coating solution for Sugar Coating as well as Film Coating.
Variable rotation rate possible
ustom-made capacity
Available in 10 Ltrs. To 1000 Ltrs. Capacity.
Product contact surfaces shall be polished to mirror polish.
irect transfer of binder solution to granulation processing equipment
Tailor made design available upon request.

Construction of Paste Kettle Vessel
Paste Kettle Vessel Will Be Made Out Of S.S. 304 Rectangular Pipes Of 3 Mm Thk And Will Be An Independent Resting Type Frame Work Where No Foundation Will Be Required. The Kettle Will Be A Hemispherical Type Bowl With Either Steam / Oil / Water Heating Jacket Will Be Provided. The Kettle Will Be Manufactured From 2.5 Mm Thk S.S. 304 Sheet And The Jacket Will Be Of 2.5 Mm Mild Steel (In Case Of Steam Jacket The Thickness Will Be 4 Mm). There Will Be Oil / Water Heated Fitted At The Back Bottom Side Of The Kettle. The Kettle Will Be Having A Worm Type Arrangement For Tilting. A Temperature Controller And A Temp Indicator Will Be Provided For Temp Control And Indication. The Kettle Will Be Insulated With 50 Mm Thk Glass wool Insulation And Claded With 16 Swg S.S. 304 Sheet. Kettle Will Be Buffed To 150 Grit Matt Finish Externally And Internally The Kettle Will Be Buffed To 220 Grit Mirror Finish.

Available In

Steam Fittings With All Connections Factory Fitted
Functions
Basically This Unit Is Used For Preparation Of Starch Paste. Hemispherical Shape Ensures That The Heating Of The Starch Paste Is Uniform And Gets More Surface Area. The Tilting Type Arrangement Ensures Ease In Unloading The Paste Into Any Container Or Vessel. The Starch Is Put In The Kettle And Water Is Added Till Desired Thickness Is Achieved. The Kettle Is Jacketed And Is Heated Till Till The Starch Melts And A Thick Paste Is Achieved. This Paste Can Be Agitated Either Manually Or With The Help Of A Anchor Type Agitator Which Will Constantly Stir The Paste So That There Will No Lumps Formation And Proper Mixing Is Achieved. Temperature Can Be Set To Desired Temp By Adjusting The Thermostat Provided And The Temperature Can Be Seen In The Dial Thermometer Provided.
Starch Paste Kettle,Paste Making Kettle Manufacturers,Starch Paste Mixing Kettle Exporters